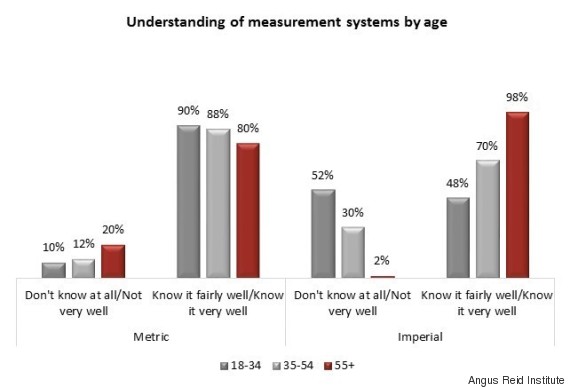 Chances are the last time you stepped on a scale in a doctor's office, the nurse jotted down your weight — in kilograms.
"What does that actually mean?" you thought. "What do I actually weigh?"
Despite officially switching over to the metric system in 1975, Canadians are still set on citing their weight in pounds and their height in inches and feet.
But Canadians know this, and, for the most part, accept it.
That's why it's surprising Canadian polling firm Angus Reid shelled out dollars and time to ask over 1,000 Canadians how they measure everything from weight, to distance, to temperature.
And what they found is totally enlightening not surprising at all.
Most Canadians use the imperial system to measure their height (feet, inches), cooking temperatures (Fahrenheit), weight (pounds), house size (square feet), and land size (acres.)
Really, the only times Canadians are more likely to adopt metric measurements are when it comes to distance (kilometres, metres), outside temperature (Celsius), and beverage or liquid volume (litres, mililitres.)
read more at huffingtonpost.ca